License Upgrades
Anything License related with LiquidFiles is done at https://license.liquidfiles.com. This is where you can purchase licenses, renew licenses and upgrade licenses to more users.
License Upgrades
You can upgrade your license at any time if you wish to add more users.
When upgrading your license, the way this works is that conceptually you will purchase a new license with the new number of users that you want, and we will refund the value of your existing license. The calculation for the refund is using the formula:
Current License is a 1 Year License
months_left_to_renewal
---------------------- * existing_license_cost = Refund towards new license
     12
Current License is a 3 Year License
months_left_to_renewal
---------------------- * existing_license_cost = Refund towards new license
     36
During the license upgrade this will be automatically calculated for you.
As an example, lets assume that it's the 1st of November , and you have a 20 user 1 Year license that will expire 1st of January (2 months away). You wish to upgrade to a 50 user 1 Year license. The 20 user license cost $249 and the 50 user license cost $569.
During the upgrade, the refund for the remainder of your existing license will be: 2/12*$249 = $42. The upgrade cost to 50 users will then be: $569 - $42 = $527. The new license will expire 1 year from today (1st of November in this example).
A common misconception
It's only ever possible to have 1 license installed at any given time. Every so often we get a support request by someone that had say a 10 user license and purchased another 10 user license and wish to add the license to the system. This is not possible. You cannot add a license to another license. Please use the license upgrade mechanism to upgrade your license to more users.
How to Upgrade
Please click on https://license.liquidfiles.com/licenses, login and click on your license. Alternatively, login to your LiquidFiles system as a Sysadmin and click on License and then the "License Upgrade" option. Please see the following screenshot: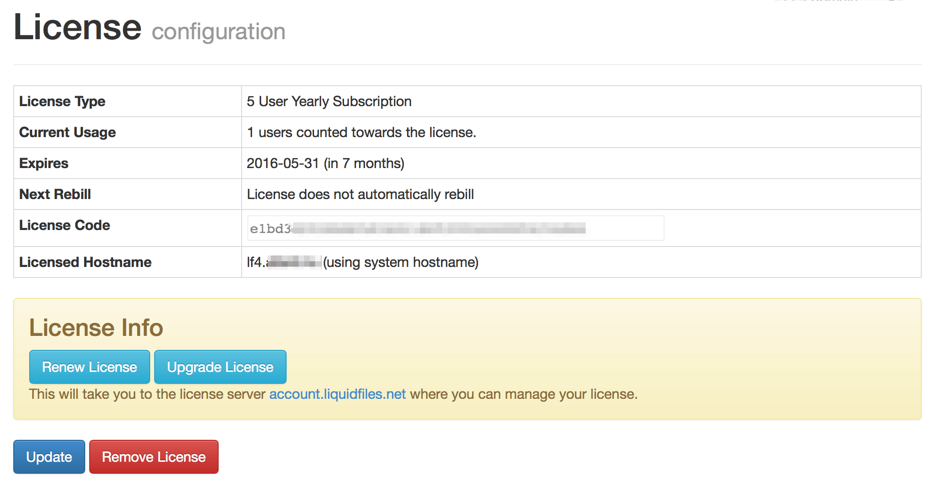 From there you will get to a screen similar to the following: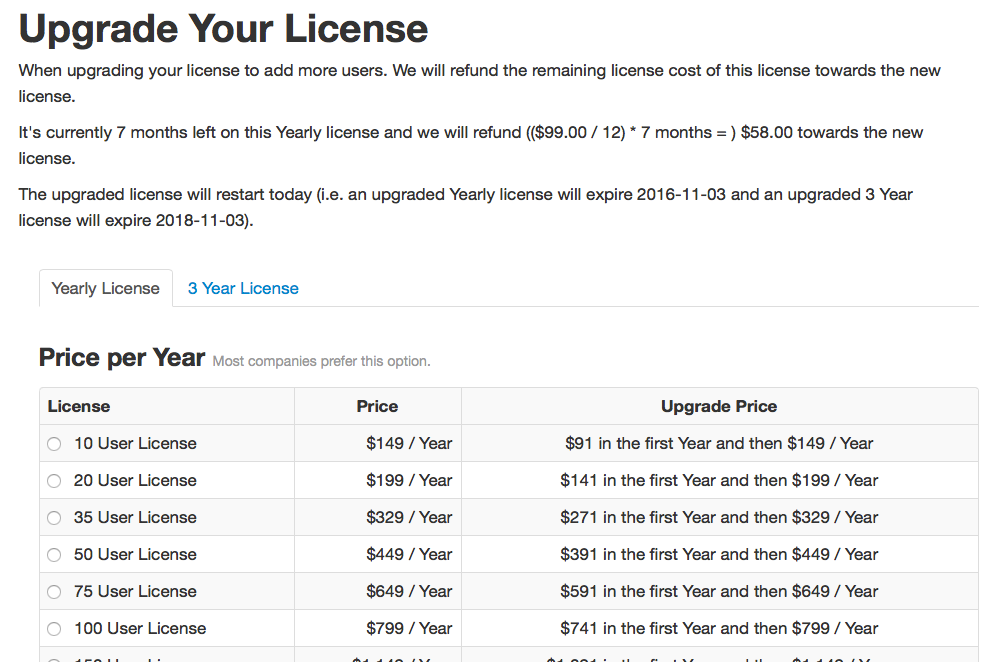 At this page you can see all your upgrade options, the refund of your existing license and the new expiration date. Please select the license you wish to upgrade to and at the bottom of that page you can purchase the upgrade.