Backup & Restore Certificates
Backup
The easiest way to backup the Certificate and Key is to go to Admin → System → Certificate and select the Download Certificate in PFX/PKCS12/p12 format. PFX/PKCS12/p12 format is a file format that stores both the Private Key and the Certificate together and you can optionally choose to protect the file with a password.
You can also choose to download the certificate in PEM format which is handy if you've generated a wildcard certificate and wish to install it somewhere else. When you download the certificate and key in PEM format, it will download a zip file with both the key and certificate in the zip file.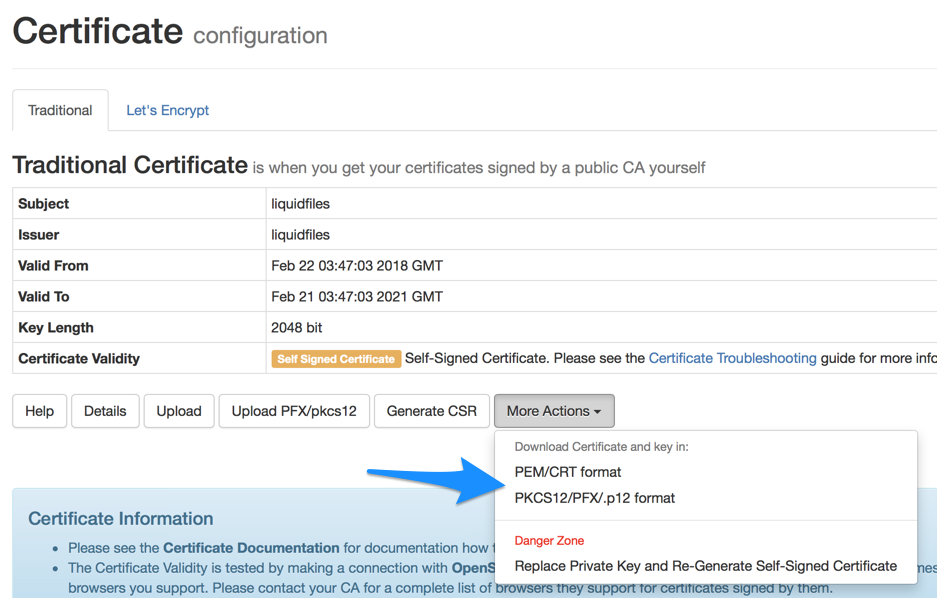 Restore
If you've downloaded a backup copy in PFX/PKCS12/p12 format, please select the "Upload PFX/PKCS12/p12" option you can see in the screenshot above and you will be prompted for a file and optional password to upload the key and certificate from a PFX/PKCS12/p12 file.
If you have downloaded the certificate in PEM format, please follow the Certificate Install Guide to install the backed up certifate and key.